Today went fairly well. I had to work a strange shift, but we were slow so I spent most of it going over my programming book. Lots of assignments due, not much willpower to do them. I have the next three days off, so Bossy is going to study her little tukkus off!
Round one of the
exchange_bingo
is over. I didn't get Review Queen (congrats,
mrs_helenesnape
!), but I did get a nifty consolation banner!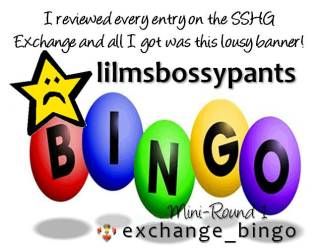 Spiffy, isn't it? Banner or not, I have had so much fun reading and reviewing each day. I love the author responses the most!
Mr. Bossy and I made tonight a date night. We grabbed a quick dinner and then went to go see Rise of the Planet of the Apes. First I wanted to see it because one of our regulars raved about it today at the shop. I had completely forgotten it had James Fanco in it. *swoon*
Then comes Tom Felton. *double swoon*
I will be frank: he gets what's coming to him in that movie. Excellent actor, douche character.
Mr. Bossy didn't realize who it was until afterward, since Tom speaks with an American accent (with a few slips, but not bad!). Once I told him who it was, he just grinned at me and said "that's what he gets for being such a douche to Harry Potter. Take that, Draco Malfoy!"
At that moment, my love for that man deepened, haha. Dork joy!
Other than the swoon-worthy actors and some killer action sequences, it had a great story line that tied everything together. The CGI work was amazing, as well. Yeah, some of it did look a bit cheesy, but overall it was very entertaining and well worth the money spent on the admission. It makes me want to go to the store and see if I can find the other films so I can re-watch them. It's been ages since I've seen the original Planet of the Apes.
I totally <3 Caesar.
Now that I've gushed about the exchange and my date night, time to get caught up on some assignments. I'm not far behind, but I need to make sure I come out of my last two semester with top marks!